"The Great," now streaming on Hulu, is an elegant and bawdy genre-busting history lesson about Catherine the Great. Over the course of 10 episodes that are stuffed with equal parts witty banter, lofty ideals and brutal debauchery, the series shows how Catherine is transformed from an innocent Austrian princess to the blood-soaked Russian Empress who wants to bring the Enlightenment principles of liberty, art and science to her new country.
The excellent script is by creator and showrunner Tony McNamara (Academy Award nominee for "The Favourite"). He writes with stunning passion and precision, a sharp wit and blazing intelligence. He keeps the characters firmly in their own time period, yet skillfully deploys enough clever anachronisms to give them a contemporary edge. His writing is vivid and he creates rich, complex characters, carefully capturing their fascinating contradictions.
The acting is first-rate, and in a thoughtful move McNamara casts several actors of color in principal roles. It's a clever strategy that opens up the historical Russian court in interesting ways.
Elle Fanning gives a powerful performance as the starry-eyed Princess who becomes a steel-willed Empress. Nicholas Hoult is amazing as her husband Peter (the son of Peter the Great who is condemned to live in his father's shadow). Catherine says that Peter is "the oddest of creatures" and Hoult's bravura performance captures Peter's charm and wit, his insatiable need to be loved, his ruthless cruelty and his mercurial moods with breathtaking flamboyance.
Belinda Bromilow is wonderful as Peter's dotty Aunt Elizabeth who knows all the family secrets and whose eccentric behavior masks a keen intellect and fierce sense of dynastic pride. Adam Godley is delightful as the cunning Archbishop who combines devotion to God with a flair for political manipulation and a taste for sadomasochism.
There's not a lot of explicit LGBT action in "The Great," although "Archie" and Elizabeth do their best to spice things up, but McNamara does an amazing job at capturing the impact of toxic masculinity and homosocial culture at the Russian court. The men preen and fight for Peter's approval; the women watch from the sidelines, valued only as sexual prey and eye candy.
To explore this, McNamara sets up two fascinating triangles with Peter at the apex of both. In one, Peter and his best friend Grigor (Gwilym Lee) both sleep with Grigor's wife Georgina (Charity Wakefield); "George" ruefully realizes she's the smartest one in the room when the three of them are together, but she also knows she's just a pawn between the two men. Wakefield dexterously captures Georgina's calculated carnality as she tries to please Peter and maintain her beloved husband's position in court.
In the second triangle, Peter "thoughtfully" appoints Leo to be Catherine's official lover. Peter thinks Leo (Sebastian DeSouza) is the perfect candidate for the position. He has a massive cock, but has been rendered sterile by a childhood case of the mumps, and Peter likes him. After all, Peter declares, "a man should be friends with his wife's lover."
These two fascinating triangles become central to the unfolding plot and raise interesting questions about sexuality, gender and power.
A quick warning. As you might gather, "The Great" is full of graphic violence, sex, sexual violence and lots of coarse language. It is not for all audiences.
But viewers who join McNamara, Fanning and company on this exhilarating journey will be rewarded with a great story that has some definite parallels to our own time. We have our Peter-the-not-so-Great, but where is our Catherine?
Two other digital releases of note.
If you need some fresh vistas this holiday weekend, "Clementine" features stunning cinematographyby Andres Karu who lovingly captures the sylvan beauty of the Pacific Northwest in all of its verdant glory. Unfortunately, the rest of the movie, written and directed by Lara Gallagher, is a disappointment. It's billed as an "erotic thriller" but it's really just a moody mess. Sydney Sweeney ("Euphoria" and "The Handmaid's Tale") has some fine moments, but there's not much chemistry between her and co-star Otmara Marrero. The thin plot — a lesbian cat-and-mouse game — never really goes anywhere, despite a great propulsive score by Katy Jarzebowski.
A dazzling design scheme is also the highlight of "Fairytale," an Italian fantasy that will delight fans of John Waters, Pee-wee Herman and Charles Busch. Out actor Filippo Timi, who wrote the play the movie is based on, gives an endearing and energetic performance as Mrs. Fairytale, a perfect — and perfectly unhappy — housewife in 1950s America. Odd things keep happening to Mrs. Fairytale and her friends, but director Sebastiano Mauri, who co-wrote the screenplay with Timi, neatly ties up all the loose ends in a charming and affirming finale.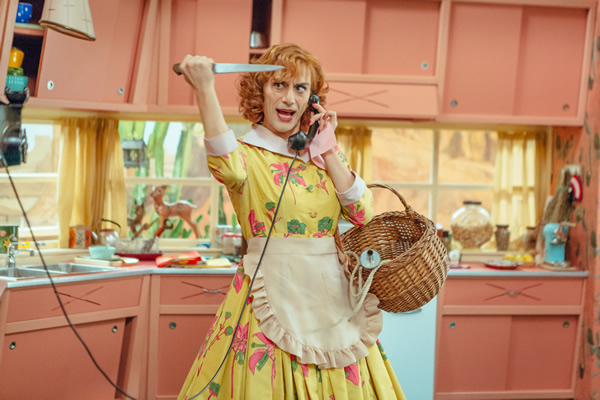 Story courtesy of the Washington Blade.