For award-winning actress and fierce LGBTQ ally Patti LuPone it all starts with the costume.
"I love costumes," she says. "I love to wear them and I love to use them. I've been very fortunate in my career that I've had incredible costumes on my body."
In fact, the legendary chanteuse says that costume fittings are an essential part of her rehearsal process.
"A good costume designer can help you define character. It all starts with the shoes. They determine how the character walks."
She says everything else flows from there.
Glamorous costumes certainly set the mood for LuPone's current television project. She's starring in "Hollywood," the latest series from gay television mogul Ryan Murphy. She plays Avis Amberg, the unhappy wife of studio executive Ace Amberg. When Avis unexpectedly assumes control of Ace Studios, she turns Tinseltown on its head and greenlights the controversial movie "Meg."
LuPone says the series asks the question "what if?" What if you could change history? What if things were done differently in Hollywood? What would it look like if women and people of color and members of the LGBTQ community could work openly and tell the stories they wanted to tell?
"It's also a throwback to an extremely glamorous time in Hollywood with all of its gorgeousness and foibles," LuPone says by phone. "I don't want to give anything away, but I will say there is a happy ending."
LuPone was of course thrilled at the chance to wear shimmering costumes from the Golden Age of Tinseltown.
"I get to look great," she says. "When I went to the costume fittings I was in heaven. I was ravenous. When someone puts you in hats and gloves and furs and tailored clothes that are incredibly well-made you just behave differently. Sarah Evelyn did an extraordinary job with the costumes. There's just stunning clothes for all of us."
LuPone was especially excited that half of the costumes seen on screen were vintage.
"The workmanship was exquisite," she says. "It's amazing that these clothes are still wearable. Now there's no quality control. You can buy a jacket for $10,000 and it falls apart on you."
LuPone also says the excellent writing staff helped her slide into the character of Avis.
"I just fell into it," she says. "I didn't feel like I had to struggle with the part even though I'm not in any way like her. I'm not married to a studio head. I'm very happily married. I don't have any of the concerns this woman had, but it felt very natural for me. When it's good writing your job is done for you, and this is good writing."
The iconoclastic LuPone, who just celebrated her 71st birthday, also appreciates that Avis is a rule-breaker who shatters traditional Hollywood stereotypes about older women.
"Avis has unbelievable freedom," LuPone says.
Avis is proudly and forthrightly sexual and also supports other women instead of tearing them down.
For example, in her first moments onscreen, Avis hires the services of call boy/aspiring actor Jack Castello (David Corenswet) and the two enjoy a steamy tryst at the Beverly Hills Hotel. Later, Avis helps veteran studio executive Ellen Kincaid (Holland Taylor) break out of the romantic mire she's stuck in and casts "over-the-hill" starlet Jeanne Crandall (Mira Sorvino) in a leading romantic role.
"Avis can break the norms because she's in a powerful position," LuPone says. "There's nothing to hold her back. I had a ball playing her."
All seven episodes of "Hollywood" drop on Netflix on Friday, May 1.
Meanwhile, Patti LuPone is waiting to get back on stage. She's playing Joanne in the Broadway revival of Stephen Sondheim's "Company," a transfer from London's West End. Previews started on March 2, but the production was forced to shut down due to the COVID-19 crisis. Performances are planned to resume in June.
LuPone has played the role before (and the iconic number "The Ladies Who Lunch" has become one of her signature songs), but she notes that this time there's a twist. The lead role, a sexually active 35-year-old bachelor, is now being played by a woman instead of a man. Bobby becomes Bobbie.
The change, she notes, makes the show much more poignant. It's one thing, she says, for a single man to be "boinking" beautiful women, but there seems to be a problem when a middle-aged woman is sexually active and single. Bobbie's not married and the clock is ticking and that's a big problem for a woman.
LuPone also adds that the recasting of the lead role is not the only gender-bending change in this production.
"The characters Amy and Paul become Jamie and Paul, a homosexual couple. This fresh focus on gender expectations really sharpens the lines."
In typical fashion, LuPone credits costume designer Bunny Christie with helping her define her character.
"I told director Marianne Elliott that there are four people in my big scene," LuPone says. "Three actors and a coat. I had to wrangle the coat. It's wonderful."
LuPone began building her LGBTQ fan base with her Broadway debut in "Evita" (1979). On stage, she's best known for her legendary musical theater performances (Fantine in "Les Misérables," Mama Rose in "Gypsy," Mrs. Lovett in "Sweeney Todd," Reno Sweeney in "Anything Goes," Norma Desmond in "Sunset Boulevard," Lucia in "Women on the Verge of a Nervous Breakdown" and Helena Rubenstein in "War Paint"), but she's also won acclaim for her starring role as Maria Callas in Terrence McNally's "Master Class" and for her work with playwright David Mamet.
Notable film roles include "Witness" and "Driving Miss Daisy" and her early television work includes gritty roles as Libby Thatcher in "Life Goes On" and librarian Stella Coffa in the HBO prison drama "Oz."
Given her love of exotic costumes and larger-than-life characters, LuPone has enjoyed taking on more flamboyant roles in recent years. In "Coven," season three of Ryan Murphy's "American Horror Story," she played Joan Ramsey, a deeply religious housewife who made the mistake of moving next door to Miss Robichaux's Academy for Exceptional Young Ladies. In Murphy's "Pose," she appeared as real estate tycoon Frederica Norman and got to sing the Stephen Sondheim anthem "I'm Still Here" at an AIDS cabaret.
She also appeared as both Dr. Florence Seward (season one) and hedge-witch Joan Clayton (season two) on "Penny Dreadful."
The award-winning actress (two Tonys, two Grammys and two Olivier Awards to date) is also winning over a new generation of LGBTQ fans with her work on the queer-themed cartoon "Steven Universe."
LuPone says she had never done voice-over work before, but jumped at the chance when series creator Rebecca Sugar asked her to join the cast. LuPone voiced the evil Yellow Diamond in the television series and the subsequent movie.
Like the rest of us, LuPone is trying to stay safe and sane during the COVID-19 crisis. She recently celebrated her birthday with a Zoom bingo game (and a lot of martinis) and has become an active presence on Twitter (@PattiLuPone), where she's taken fans on a tour of her basement while dressed like silent screen star Norma Desmond.
With LuPone's busy schedule, it's "as if we never said goodbye."
'Hollywood' sizzles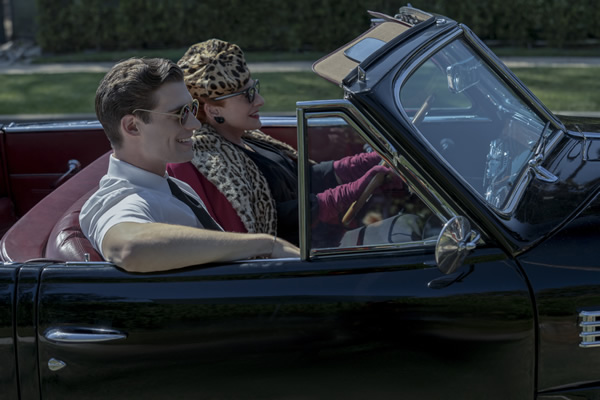 Expectations matter. If you binge-watch Ryan Murphy's new Netflix limited series "Hollywood" this weekend (and you should) and expect to see the "revisionist history" they advertise, you'll be disappointed.
But, if you tune in and expect to see a delicious escapist fantasy, then you'll be in heaven. "Hollywood" is a frothy wish-fulfillment dream, a delectable parfait with terrific acting, gorgeous costumes, engaging heroes, despicable villains and a happy ending worthy of a classic Tinseltown blockbuster.
"Hollywood" centers on the glamorous Avis Amberg (Patti LuPone), a former silent movie star who married a studio executive when her career tanked (she sounded "too Jewish" for talkies). When she unexpectedly takes the reins at Ace Studios, she turns Hollywood into a real dream factory where women, people of color and queer people get to make movies, tell their stories, win Academy Awards and live happily ever after.
LuPone is simply magnificent. She's smart, stylish and sexy. She looks amazing (the terrific costumes are by Sarah Evelyn) and delivers the crackling dialogue with fantastic flair and flawless timing (Janet Mock served as one of the producers, writers and directors for the show). LuPone also brings an appealing warmth and vulnerability to the role. She becomes the brains, heart and soul of this new celluloid kingdom and her performance is perfection.
LuPone is surrounded by a top-notch cast that brings together veteran actors and fresh-faced newcomers. Jim Parsons, known for his work on the sitcom "The Big Bang," is electric as the snarling Henry Willson, the closeted agent and sexual predator who knows where the bodies are buried. Holland Taylor ("Bosom Buddies" and "Two and a Half Men") is wonderful as casting agent Ellen Kincaid and Joe Mantello (Broadway's "Angels in America") offers a richly layered performance as a closeted studio executive.
Murphy regular Dylan McDermott is charming as Ernie, the suave Hollywood pimp based on the historic Scotty Bowers. His stable of affable sex workers includes Archie Pope, who blazes with sincerity and passion as a black gay screenwriter and David Corenswet, who's period-perfect as the ambitious actor with the chiseled cheekbones.
Samara Weaving conquers some inconsistent writing to turn in a fine performance as Claire Wood, an aspiring starlet, but two of her castmates struggle with their roles. Darren Criss is rather monotonous as the cheery wanna-be director and Jake Picking is wooden as a fantasy version of actor Rock Hudson.
The cast has great fun demolishing Hollywood stereotypes, especially those around older women. LuPone and Taylor (both over 70) get sizzling sex scenes with their younger male co-stars. And while the female characters engage in delightful repartee with each other, they always have each other's back. Despite some personal friction, Avis hires an "over-the-hill" actress (a superb Mira Sorvino) for a romantic lead and Claire cheers on the actress who gets the role she wanted.
In "Hollywood," Ryan Murphy and company create an exquisite escapist fantasy where Tinseltown really is Dreamland and dreamers do find their rainbow connection. Since it simply ignores the historical reality of the period (messy things like laws against miscegenation and sodomy), it's not really revisionist history, but does that really matter? Right now, a stylish and sentimental fantasy sounds perfect.
Story courtesy of the Washington Blade.