The nephew of Harvey Milk on Thursday expressed his support for those who are protesting against police brutality in the wake of George Floyd's death.
"I'm inspired by the protests," Stuart Milk told the Washington Blade during a brief interview at a Fort Lauderdale restaurant. "I am really hopeful that maybe we can create some systemic change."
Milk spoke with the Blade less than two weeks after Floyd died after then-Minneapolis police officer Derek Chauvin kneeled on his neck.
Minnesota prosecutors have charged Chauvin with second-degree murder in connection with Floyd's death. The Associated Press notes the three other now former police officers who were with Chauvin face charges of aiding and abetting second-degree murder and second-degree manslaughter.
Christopher Street West, the group that organizes Los Angeles' annual Pride parade, has announced it will hold a march "in response to racial injustice, systematic racism and all forms of oppression." Milk told the Blade he "would like to see more of that and hopefully one day we can do that on our global scale."
"It's been nine days … sometimes we see these things really light up and then fizzle out and then we move on to something else," he said. "It's my hope and desire that we don't move on and that we as an LGBTQ community keep that fire burning."
"Unless there is justice for everyone in the United States there is justice for no one," added Milk.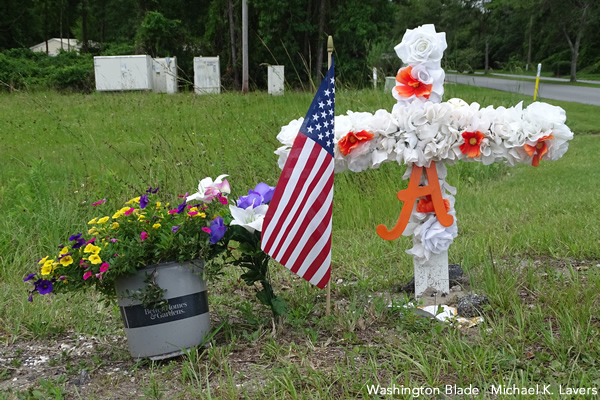 Milk on Thursday also talked about the Trump administration's campaign to encourage countries to decriminalize consensual same-sex relations.
The White House last year tapped outgoing U.S. Ambassador to Germany Richard Grenell to spearhead the initiative.
The U.S. Embassy in Germany last summer hosted a group of LGBTQ rights activists from around the world. Grenell and U.S. Ambassador to the U.N. Kelly Knight Craft late last year organized an event on the sidelines of a U.N. Security Council meeting that focused on efforts to decriminalize homosexuality around the world.
"The campaign has had some deep back door discussions that I think are important," Milk told the Blade. "It's important that we keep global LGBTQ rights moving forward."
Milk added "it's just totally unacceptable that we have over 70 countries where it's still illegal and criminalized to be LGBTQ."
Story courtesy of the Washington Blade.