President Trump on Friday declared a national emergency in order to secure funding for a wall along the U.S.-Mexico border.
He made the announcement in the White House Rose Garden before he signed a spending bill that will keep the federal government open through the end of the current fiscal year. A 35-day partial federal government over Trump's demands that Congress appropriate more than $5 billion for a border wall ended on Jan. 25.
"We're going to confront the national security crisis on the southern border," said Trump, citing drugs entering the U.S. and violence in Ciudad Juárez and other Mexican cities that border the U.S. "Walls work 100 percent … Everyone knows that walls work."
The New York Times this week reported El Paso, Texas, the city across the Rio Grande from Ciudad Juárez that Trump visited on Monday, has a violent crime rate that is lower than 20 U.S. cities with a similar population. Arizona state Rep. Daniel Hernández (D-Tucson), whose district borders Mexico, told the Washington Blade last month during an interview at the Arizona Capitol that he has "never felt unsafe going to the border."
"It's really easy to turn the border and turn Mexico into the boogeyman and rile up some of the more extremist elements," said the openly gay Democrat. "When the president starts off his campaign by talking about Mexicans being murderers and rapists and drug mules, it's not going to get better from there."
Poverty and violence in Central America and Mexico has prompted tens of thousands of migrants to leave their homes over the last couple of years. Many of them, including those who are LGBTI, hope to seek asylum in the U.S.
Roxsana Hernández, a transgender woman from Honduras who was living with HIV, died in a New Mexico hospital on May 25, 2018, while she was in U.S. Immigration and Customs Enforcement custody. Casa Ruby, a D.C.-based advocacy group, this week confirmed it is providing assistance to eight of the 45 trans women who ICE detained and was holding at a privately-run detention center in Texas.
Immigrant rights advocates and their supporters continue to sharply criticize the Trump administration's overall immigration policy, which includes the separation of migrant children from their parents after they entered the U.S. and a pilot program that forces some migrants who ask for asylum at the San Ysidro Port of Entry south of San Diego to remain in Mexico as they await the outcome of their cases.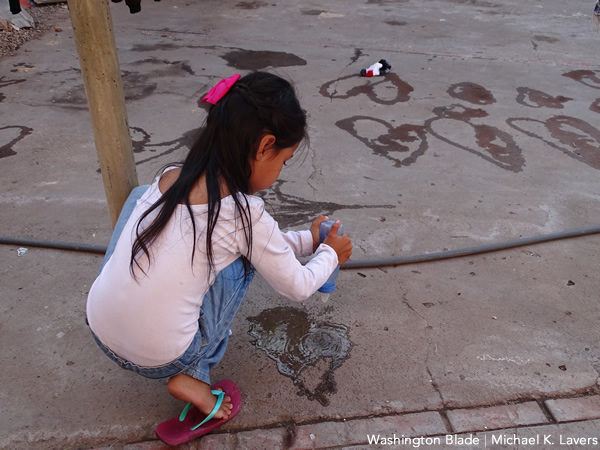 Puerto Rico Gov. Ricardo Rosselló on Thursday in a tweet said his administration will "see you in court" if the White House diverts disaster relief funds, such as those that are earmarked to help the U.S. commonwealth recover from Hurricane Maria, to pay for the wall.
Is it now Puerto Rico and California (American Citizens) that will pay for the wall? If this is the case, we'll see you in court. https://t.co/KwDjEloXm2

— Ricardo Rossello (@ricardorossello) February 14, 2019
Other legal challenges are expected to be filed against the Trump administration over the declaration.
"The only national emergency happening at our southern border is the violation of human rights by our own government, against people who are simply seeking asylum, refuge and opportunity, many of whom are LGBTQ," said GLBTQ Legal Advocates and Defenders Executive Director Janson Wu in a statement.
"This border wall has never been anything but a cynical, dangerous ploy on the part of President Trump to stir up racist, anti-immigrant feelings in order to score political points," added Wu. "That he is willing now to take this extreme, constitutionally-dubious step, to take taxpayer money without Congressional authorization or to divert our military's resources toward a made-up problem should be cause for grave concern to all of us."
Human Rights Campaign Government Affairs Director David Stacy echoed Wu.
"There is no national security crisis at the border," said Stacy in a statement. "To declare one based on the reality on the ground is an abuse of power that undercuts the rule of law."