A gay man from Chile who was sexually abused by a notorious pedophile priest participated in a summit on clergy sex abuse that took place at the Vatican last week.
Juan Carlos Cruz told the Washington Blade on Monday during a telephone interview from Philadelphia that he and a dozen other survivors of clergy sex abuse met with bishops before the 4-day summit began at the Vatican on Feb. 21.
"It was positive because it was a very constructive dialogue, but at the same time (it was) painful and difficult and good," he said. "It was all kind of things."
Cruz told the Blade he was also asked to record a video for Pope Francis and the bishops from around the world who traveled to Rome. The video was shown at the beginning of the summit.
"You are the doctors of souls and yet, … you have become, in some cases, the killers of souls, the killers of faith," said Cruz in the video, according to La Nación, an Argentine newspaper that covered the summit.
Chilean church treated Cruz as 'a liar'
Fernando Karadima, who has been defrocked, sexually abused Cruz and hundreds of other people over three decades at Parroquia Sagrado Corazón de Jesús, a parish in a wealthy neighborhood in the Chilean capital of Santiago.
Cruz and two other men who Karadima abused — José Murillo and James Hamilton — in a 2013 lawsuit accused Cardinal Ricardo Ezzati, the archbishop of Santiago and his predecessor, Cardinal Francisco Javier Errázuriz, and the Archdiocese of Santiago of covering up the abuse.
Errázuriz and Ezzati conspired to block Cruz from being named to a sex abuse commission that Francis created. Cruz in a previous interview with the Blade said Errázuriz dismissed his allegations against Karadima, noting he is "gay and he liked it."
Francis in January 2018 sparked widespread outrage during his trip to Chile when he publicly defended Rev. Juan Barros, a Karadima protége who was the then-bishop of the city of Osorno, and dismissed allegations that he witnessed the abuse and covered it up. Francis faced additional criticism over his assertion that he did not know about the allegations against Barros.
"As a Catholic, the first thing that I thought was I am going to go to the Holy Mother Church, where they are going to listen and they are going to respect me," said Cruz in his video, according to La Nación. "The first thing that they did was treat me as though I was a liar, turn their backs on me and say that I and others were enemies of the church."
Francis last May met with Cruz, Murillo and Hamilton at the Vatican.
Francis subsequently asked for the resignations of all of the 31 bishops who were active in the Chilean Catholic church after he met with Cruz, Murillo and Hamilton. Francis accepted Barros' resignation last June.
Chilean Bishop Luis Fernando Ramos attended the summit. Cruz told the Blade that Bishop Santiago Silva, president of the Chilean Episcopal Conference, did not travel to Rome because he remains under investigation over the church's cover-up of clergy sex abuse in the South American country.
"He was there, but he didn't want to meet with me, nor did I," Cruz told the Blade, referring to Ramos. "He's not any benefit to Chile in terms of helping survivors."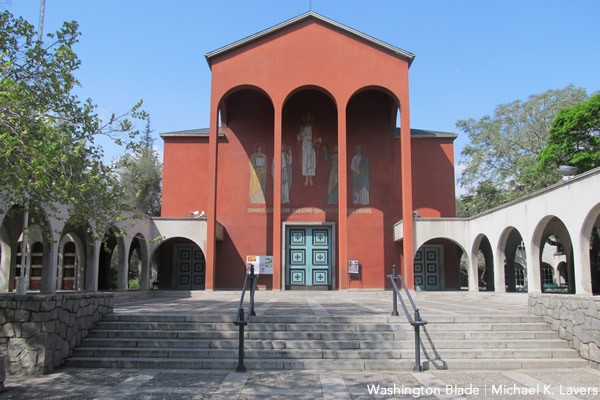 The Associated Press reported Francis at the end of the summit acknowledged "people's justified anger" over clergy sex abuse.
"The church sees the reflection of the wrath of God, betrayed and insulted by these deceitful consecrated persons," he said.
The summit began four days after the Vatican announced former Cardinal Theodore McCarrick, who was the archbishop of Washington from 2001-2006, had been defrocked after he was found guilty of sexual abuse. An Australian court on Tuesday announced the conviction of Cardinal George Pell, the Vatican's economic minister who was a close advisor to Francis, on charges he sexually abused two choirboys in the 1990s.
Cruz told the Blade that Francis is "clear" on preventing clergy sex abuse, but acknowledged those who say the Vatican has not done enough to address it. Cruz added he remains concerned about whether the church will hold bishops accountable.
"I worry about the bishops going back to their countries and doing nothing about it," he told the Blade. "I hope there's a way to make them accountable for their behavior."
Cruz said the Vatican should require bishops to cooperate with law enforcement officials in their respective countries who are investigating allegations of clergy sex abuse. Cruz also told the Blade he supports zero-tolerance policies for everyone in the church.
"You abuse someone no matter what it is, you're out," he said. "The same thing for bishops."
Cruz told the Blade he will continue to advocate on behalf of clergy sex abuse survivors, noting he "felt such a big responsibility … to represent survivors well, survivors in Chile and survivors all over the world" while he was in Rome. Cruz added he also continues to receive encouragement and support from Chile and from around the world.
"It's all about the survivors," he said.
Story courtesy of the Washington Blade.