by Aaron Malhiot
Admit it: You can hear this gif.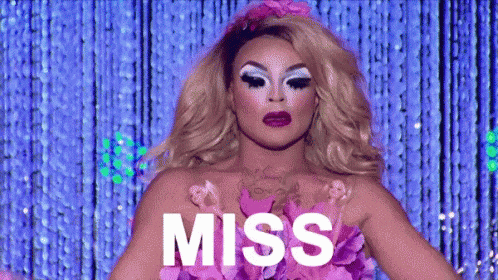 We are five episodes into "RuPaul's Drag Race: Season 10" on VH1, and we have already missed Christina and Shania guest-judging, each taking a gander at a couple of these queens lipsyncing their songs right in front of them. (How are you not keeping up just for that?!)
Okay, fine, not everyone is into the pop- and country-idol gig, I get it. But let me tell you, this is the first season of ten (plus three) All Stars seasons where I literally had no clue how things would go. Even the bottom two of episode 1 had me… *appropriate pause* … gagged! Never mind guest judges and new set backdrops — the queens are the real stars of the show. Let's get into these cookies:
Aquaria – This fashion-forward New York queen entered the competition with her name on everyone's lips and is the youngest of all 14 queens this season. She has served high-concept looks on the main stage save one or two, but while doing well enough in acting or comedy challenges, she doesn't command attention like some of her competition can.
Asia O'Hara – From the legendary House of O'Hara, drag mother of Season 4/All Stars 2 queen Phi Phi O'Hara, this Texas pageant queen came full-force and ready to slay. Her track record on the runway has been fantastic except for instances where preparedness became an issue, as her pageantry background doesn't prepare one for made-last-minute looks.
Blair St. Clair – The first queen to walk the Drag Race stage from Indiana, Blair is a boy scout out of drag, but a 50s debutante ready to give a Broadway performance when all dolled up. Blair excelled in the beginning, receiving much praise from the judges. However, she's starting to falter into 'just safe' territories. Her quick thinking has served her well in later challenges.
Eureka O'Hara – The returning queen from Season 9, Eureka has all eyes on her. With the eliminating injury she sustained last season still fresh in her mind, Eureka knows she has to overcome her anxieties so she may succeed this season. That aside, Eureka is indeed giving it to us bigger and better than before with her boisterous personality and smashing looks — loaf of hair included! She's had to lipsync once this season, but she was able to pull through. (Also, she's not of the same drag family as Asia and Phi Phi, going simply by "Eureka" for Season 10.)
Kameron Michaels – Category is … BUTCH QUEEN! This Nashville, TN queen is the "trade of the season" when out of drag, looking like she just walked away from a Tim Tale, but she enjoys the dichotomy drawn when she glams up lookin' real femme. Each of her runway looks have given a solid concept and is usually well-executed. Her entrance look was honestly her least-likeable, so you only have better to expect from here on out.
Miz Cracker – "OKAY KATELYN, IT'S TIME FOR DINNER!!!" Our second New York queen comes from a comedy angle: "No one does 'stupid' like me." A rough description can't do this queen justice. Quick, witty, sharp — those adjectives describe amateurs. Miz Cracker (previously, Brianna Cracker) bounces off the judges like none other, and her creativity with runway looks rarely falls short of expectations.
Monét X Change – Another New York queen (sit tight, there are five this season), Monét came to slay with her comedy, playful attitude and conceptual looks, one involving sponges, the debris of which still clutters the Werk Room to this day. She's almost the one just happy to be here as she is living for the spats of drama that have occurred up to this point. Thus far, she has survived two lipsyncs.
Monique Heart – Midwest sass, "The Face" Monique Heart has no qualms not understanding why she has yet to impress the judges. While Ms. Heart has all of the attitude and comedic delivery you could ask for, her looks (or more specifically, her reveals) don't impress the judges. From Cookie Monster to "Aahhh! Real Monsters" on the Best Drag runway to giving us denim and giraffe for the 'Denim and Diamonds' runway, the audience is left confused by her confidence. But it must be admitted: Her Drag on a Dime look was a winner.
The Vixen – Miss Vix was not kidding upon her entrance: "I'm just here to FIGHT!" In five episodes, she has had no less than three run-ins with Aquaria, and most recently has engaged Eureka in verbal combat. Bringing the Chicago flavor to the runway, Vixen's looks often shine inspired by her fire for justice and focused presentation — key word 'often.' Personally, Vixen's Drag on a Dime look alone should have sent her home, but I'm not mad — she's stirring the pot and baking fresh discussion along the way.
ELIMINATED QUEENS:
Vanessa Vanjie Mateo – EPISODE 1 – "Miss Vanjie … Miss Vanjie … Miss … Vaaanjiieee..!" You've likely heard it even if you're not a Drag Race fan. Vanessa showed up to the race ready to hack the competition and represent the extraordinary House of Mateo. Drag daughter to Season 3/All Stars 1 queen, Alexis Mateo ("Bam!"), Vanessa's time on Drag Race was cut early despite her energetic personality and earnest attitude. In a moment of dumbfoundedness during her sashay away, all she could think to say was her name, "Miss Vanjie ..!" How she said it struck me as haunting, like a voice calling your name to awaken you from a dream.
Kalorie Karbdashian Williams – EPISODE 2 – The New Mexico queen with an eerily familiar name showed up all bubbles and jokes, but when her Drag on a Dime look failed to live up to previous similar looks, and her Best Drag felt more cat-suit-and-claws basic, she was sent home having lipsynced in both episodes she appeared in.
Yuhua Hamasaki – EPISODE 3 – "I thought you were Japanese." "No girl, I'm Chinese!" "'Hamasaki'?" … "Well you're not a real woman, either!" That exchange between Miz Cracker and Yuhua (you-hwah) was about as good as it got for this New York queen. A seamstress, not a designer. A funny gal, not an actress. A gentle soul, not one who works well under pressure. I loved Yuhua for her shining personality and wit, but she did not serve it this season as she seemed to lack the necessary creativity.
Dusty Ray Bottoms – EPISODE 4 – "Stop relying on those dots!" Our fifth and final New York queen was the second of five to sashay away. Dusty is a high-concept queen with a signature makeup look involving dots that I honestly liked, but Michelle Visage warded her away from them for future challenges. Dusty obliged but later fell prey to not presenting a look that fit the runway challenge, failing to supersede Monét in a lipsync and was sent home.
Mayhem Miller – EPISODE 5 – This one kills me. Mayhem was the name on everyone's lips LOOOOOONG before Aquaria. Ms. Miller runs with girls we know all-too-well, such as Morgan McMichaels, Detox, Raven, Delta Work. Name just about any L.A. queen, and you can bet Mayhem calls her a friend. She won the first challenge, Drag on a Dime, but subsequent challenges saw Mayhem retreat into her shell, unable to speak up for herself. That left her with underwhelming performances and two lipsyncs, the second of which sent her home.
Stay tuned for next Friday's edition of The Weekly Kiki and feel free to spill some T in the comments!