More than 1,000 Honduran migrants who hope to reach the U.S. left the country earlier this month.
A source in Honduras told the Washington Blade the migrant caravan left the city of San Pedro Sula on Jan. 14.
The source noted Guatemalan officials said 890 men, 354 women, 161 boys and 130 girls have entered their country from Honduras. Erick Martínez, an activist who is based in the Honduran capital of Tegucigalpa, told the Washington Blade on Wednesday that some of the migrants who are traveling with the caravan are LGBTI.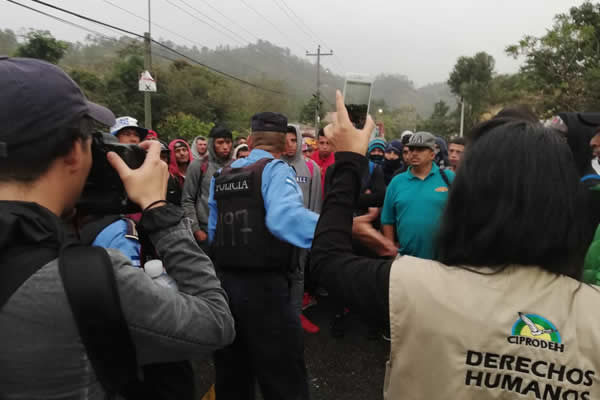 Rampant violence, poverty and a lack of economic opportunities are among the reasons that have prompted thousands of Central Americans to join migrant caravans. Many of them hope to seek asylum in the U.S., despite President Trump's immigration policy that includes the separation of migrant children from their parents once they enter the country.
Efforts to end the partial federal government shutdown remain stalled over Trump's insistence that Congress appropriate more than $5 billion for a wall along the U.S.-Mexico border.
Trump earlier this month during a televised address from the White House said there is "a growing humanitarian and security crisis at our southern border." Trump on Friday tweeted he will "be making a major announcement concerning the humanitarian crisis on our southern border, and the shutdown" on Saturday from the White House.
Trump has also threatened to cut aid to Honduras, Guatemala and El Salvador if their governments don't do more to prevent migrants from leaving their countries.
"Everyone has the right to leave any country, including his own, and to return to his country," reads Article 13 of the U.N. Universal Declaration of Human Rights of which the U.S. voted in favor in 1948.
"Everyone has the right to seek and to enjoy in other countries asylum from persecution," reads Article 14.
The U.S. has also faced international criticism over the treatment of migrants who have been detained.
Roxsana Hernández, a transgender Honduran woman with HIV, died in the custody of U.S. Immigration and Customs Enforcement on May 25, 2018. An autopsy for which the Transgender Law Center asked indicates Hernández was beaten before she passed away at a New Mexico hospital.
Two migrant children have died in U.S. custody over the last month. A report the Department of Health and Human Services' inspector general released on Thursday indicates the Trump administration separated thousands more migrant children from their parents than it previously said.
Update: Trump on Saturday proposed the extension of the Deferred Action for Childhood Arrivals (DACA) and Temporary Protected Status programs in exchange for $5.7 billion for a border wall in order to end the government shutdown. Democrats were quick to reject the offer.