An Arizona lawmaker whose district borders Mexico on Tuesday sharply criticized President Trump's immigration policy that includes demands for a border wall.
"It's mostly dog whistle to try and gin up his very extreme base," Arizona state Rep. Daniel Hernández (D-Tucson) told the Washington Blade during an interview at the Arizona Capitol.
"As someone who's lived in southern Arizona my entire life, I've never felt unsafe going to the border, but it's really easy to turn the border and turn Mexico into the boogeyman and rile up some of the more extremist elements," he added. "When the president starts off his campaign by talking about Mexicans being murderers and rapists and drug mules, it's not going to get better from there."
Hernández, 29, has represented Arizona's 2nd Legislative District, a majority Latino area that includes the border city of Nogales in Santa Cruz County and portions of Tucson in neighboring Pima County, since 2017.
Hernández is one of four openly gay members of the state House. He is also credited with saving then-Arizona Congresswoman Gabrielle Giffords' life after she was shot during a 2011 campaign event at a Tucson shopping center.
Hernández spoke with the Blade on the 32nd day of a partial government shutdown that shows no signs of ending anytime soon because of Trump's continued demands for border wall funding.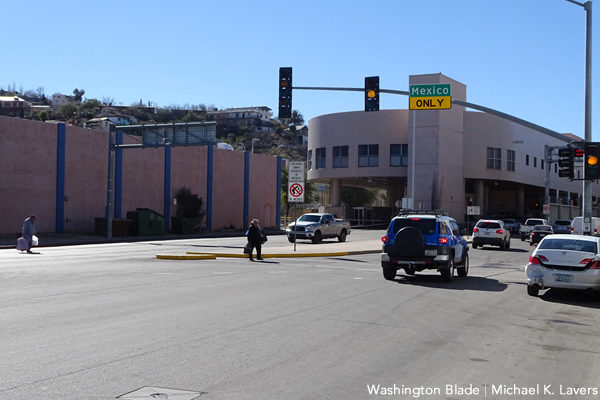 Nogales and Nogales, Mexico, which is in the country's Sonora state, are collectively known as Ambos Nogales or Both Nogales. Hernández told the Blade that residents of both cities regularly cross the border to work, to shop, to receive health and dental care and to visit relatives.
"It's a bicultural and a binational city," he said. "Nogales has an Arizona side and a Sonora side. Everything is intricately tied."
Hernández told the Blade a border wall is not necessary, in part, because "fencing and barriers" are already in place. Hernández said motion and sound sensors, drones and other technologies "are more efficient and more effective" ways to address border security concerns.
"What is happening is people will build tunnels underneath or build holes through it," he said, referring to a wall. "They'll go around, underneath or through it."
Hernández added business owners and other constituents have told him they want more U.S. Customs and Border Protection officers at the Nogales port of entry, which is the busiest border crossing in Arizona, in order to reduce wait times.
"The biggest complaint for most people is how long it takes them to go back and forth," he said. "Ten, 15 years ago you'd be across the border in 10 or 15 minutes without a problem. Now due to staffing changes, we keep getting Border Patrol, but not enough customs officials."
The U.S. Census indicates 21.8 percent of Santa Cruz County's residents live below the poverty level. Nogales International, a local newspaper, reported Arizona Department of Economic Opportunity statistics indicate the county's unemployment rate was 11.9 percent in August 2018.
Hernández noted agriculture is one of his district's main industries. He told the Blade local businesses are losing money because it can take up to five hours for their trucks to bring produce and other perishable goods from Mexico into the U.S. through the Nogales port of entry.
"If you are stuck on a truck for five hours trying to get through, some of the spoiled things then cut into the bottom line of the companies that are providing really the main source of jobs for the county," said Hernández.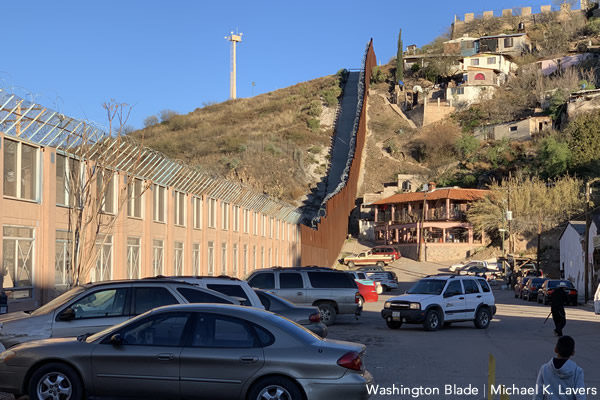 U.S. Army troops who were deployed around Nogales last November installed concertina wire with razors on top of the border fence in anticipation of a migrant caravan that was traveling north through Mexico. Local media reports also indicate shipping containers temporarily blocked two of the six vehicle lanes on the U.S. side of the Nogales port of entry.
Downtown Nogales begins a few hundred feet north of the port of entry. The Blade on Wednesday saw several vacant storefronts on North Morley Avenue, which ends at the border.
Hernández said Republicans who live in Nogales "are so fed up" with Trump's anti-immigrant rhetoric because it is "causing them jobs, costing them economic opportunities." He added it is also hindering efforts to revitalize downtown Nogales.
"The president's words make it harder for us to incentivize and to convince people it's even a safe place to go to," said Hernández.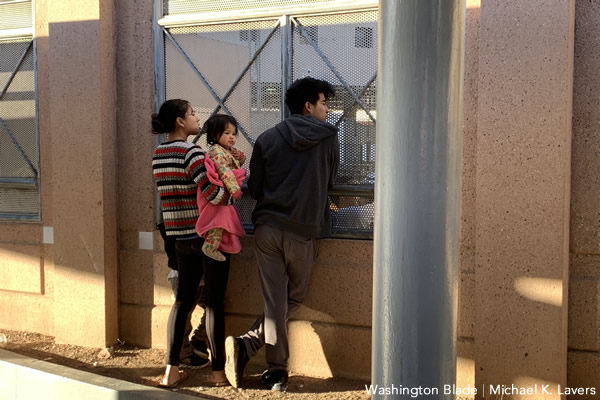 Arizona over the last decade has enacted a series of laws that critics contend specifically target immigrants. These include Senate Bill 1070, a law then-Gov. Jan Brewer, a Republican, signed in 2010 that allowed police officers to check the immigration status of anyone who they suspected were in the U.S. illegally.
Hernández noted current Republican Gov. Doug Ducey "has made it a priority to build" a relationship with Sonora Gov. Claudia Pavlovich.
Pavlovich attended Ducey's state of the state speech that he delivered on Jan. 14. Ducey also attended Mexican President Andrés Manuel López Obrador's inauguration in Mexico City on Dec. 1.
Hernández told the Blade people who may not live along the border or in Arizona "see the caravan on Fox News and are afraid that MS-13 rapists are going to come and kill their children." Hernández further urged Ducey to "be a bigger leader and to call out some of the inaccurate things that President Trump has been saying."
"I would like to see is him standing up to the president of his own party and saying we know that there needs to be something to secure the border, but securing the border is more than just building a wall," said Hernández.
Story courtesy of the Washington Blade.